Bundle Saving: 'Olive at the Market' Book and 'Olive' Doll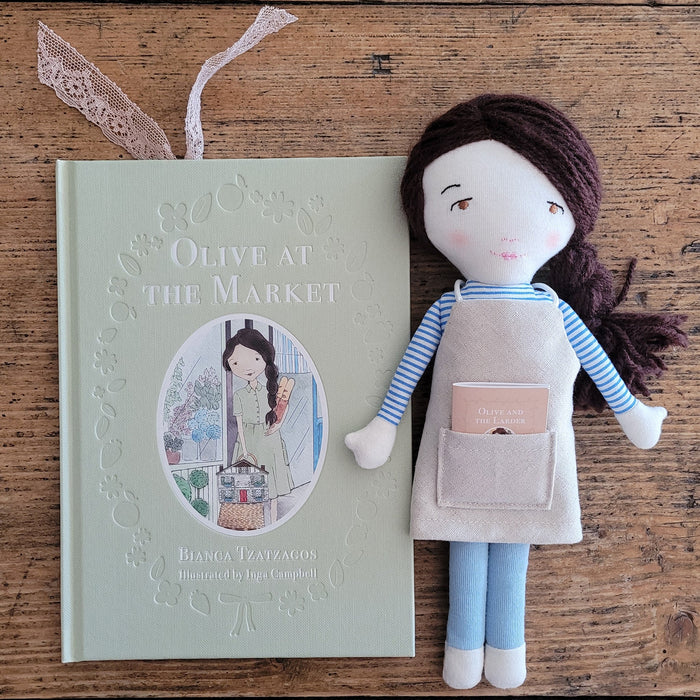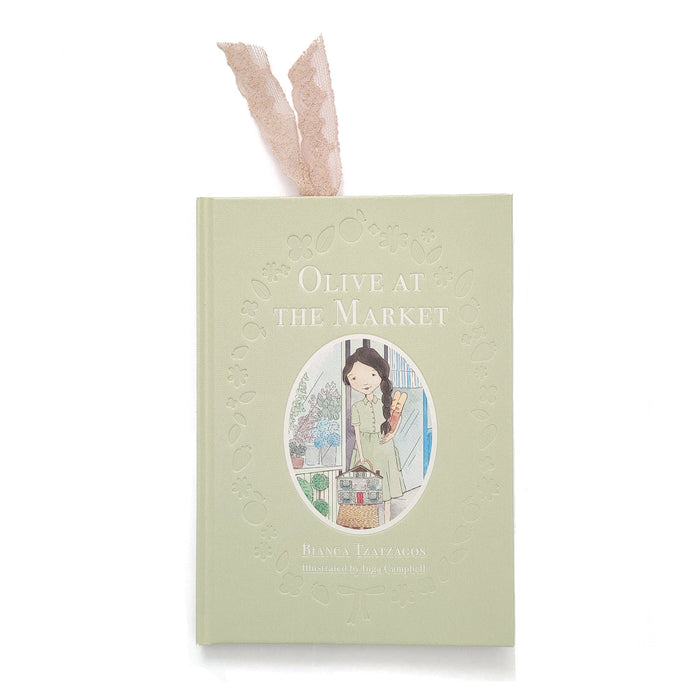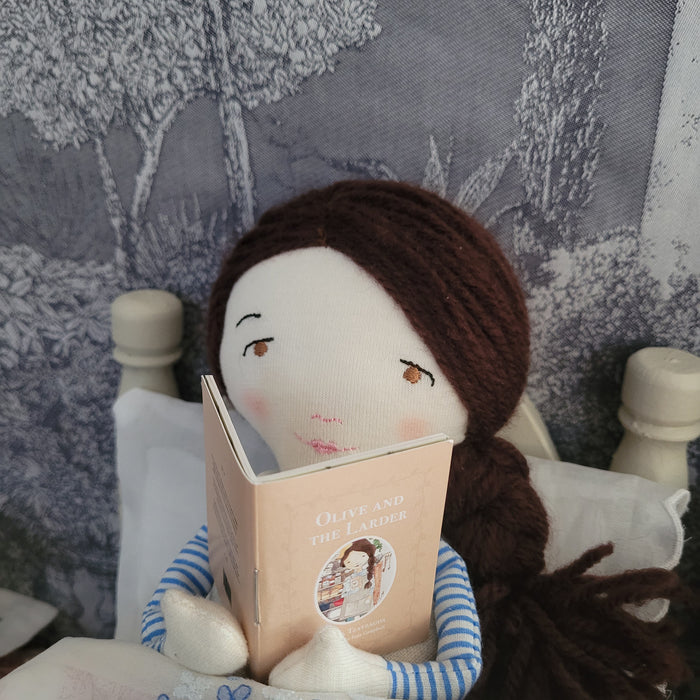 Buy our exclusive 'Olive' doll and our limited-edition storybook, Olive at the Market, together in this bundle set to save.
ABOUT THE BOOK
A limited-edition, all-ages storybook by Bianca Tzatzagos with illustrations by Inga Campbell.
Each issue comes hand-signed and individually numbered by the author.

Proudly and entirely produced and printed in Australia. 

Debossed hardcover. Full-colour illustrations throughout.
32 pages. A5 size, 21.8cm h x 15.3cm w (approximately 8.5 h x 6 w in inches).
ISBN 9780646863689
Includes a double-sided bookmark, hand-finished with beautiful salvaged vintage lace (your lace may differ in colour and style from the one in this picture).
Your book will arrive beautifully gift-wrapped in exclusive Olive and the Larder print cotton/linen fabric, finished with twine and a striped grosgrain ribbon trim, and thank-you postcard, all ready for gift-giving.
Every component of the packaging and giftwrap has been thoughtfully selected to be savoured and/or re-purposed.
No adhesives/stickers are used, so that it is easy to unwrap the book to view it (or give it a cheeky read!) before gifting it.

This is a delicate hardback book which will show signs of wear easily. We truly believe that such wear-and-tear is evidence that a collectable is well-loved and should be embraced wholeheartedly.
However, to best protect the condition of your book, treat it gently and re-wrap it between readings.
ABOUT THE DOLL
From the moment we published our first book, Olive and the Larder, we dreamed of creating an Olive doll that would help to bring this delightful character to life.
The result has exceeded our expectations, thanks to the wonderful craftsmanship and design work of longstanding Australian family business, Alimrose.
We worked closely with Alimrose to develop the perfect details for Olive: classic yarn hair, embroidered facial features, a Breton-stripe top and of course, her signature linen apron.
What makes our limited-edition Olive doll extra special is what's hiding in her apron pocket: a miniaturised and perfectly complete edition of the original Olive and the Larder storybook. This miniature book measures just 5 x 4 cm (approximately 2 x 1.5 inches) and, just like the original, has been lovingly printed in Australia by Scotts.
Even better than that, each tiny book has been (painstakingly!) hand-signed and individually numbered by the author. It is perfectly readable for strong young eyes, and anyone else with the assistance of a phone camera or magnifying glass!
We produced this mini especially for those who missed out on their own full-sized copy of our first limited-edition book, which is now sold out.
Olive comes presented inside her own branded calico 'market' bag, which will also fit both storybooks, so you can keep your entire Olive and the Larder collection in one place and beautifully protected.
The double-sided backing card is printed with illustrations from the first book, Olive and the Larder. 
Our Olive doll measures approximately 25cm (10 inches) high and her torso is approximately 6cm (2.5 inches) wide.
We have found that this is the perfect size for little hands to play with, and it also complements doll-sized furniture wonderfully.
The vintage and handmade miniature furniture and accessories pictured here are one-of-a-kind pieces from Bianca's personal collection and not available for purchase anywhere. (As an alternative, we can suggest the Maileg bed and accessories that are sized to fit their Size 1 bunnies.)
This doll is not for children under 3 years.
The tiny collectable book and all product packaging are not toys, so please exercise caution.
We are so proud that our Olive doll has been ethically made with love in the Philippines. Here is what Alimrose has to say about their doll production: 
"Our dolls are proudly made by a female owned and operated ethical production facility in the Philippines that we have been working with for close to 40 years. By working loyally together for decades we have been able to support their business to employ over 100 women and provide them with outstanding wages and conditions."